VIETNAM NEWS HEADLINES JANUARY 9 – VietNamNet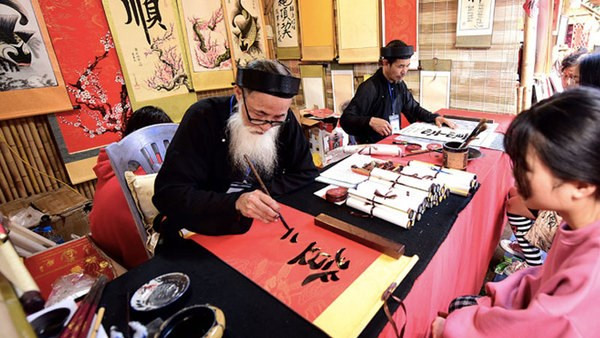 This year, Tet Festival falls in late January (Photo: VNA)
Prime Minister Pham Minh Chinh has signed a dispatch directing ministers, heads of ministerial-level and State agencies, and chairmen of People's Committees of centrally-run cities and provinces to strengthen measures to prevent the spreading of COVID-19 during the upcoming Lunar New Year (Tet) Festival and the festive season of 2023.
In the document, the PM underlined that the pandemic is still developing unpredictably with the continuously appearance of new variants and sub-variants of SARS-CoV-2, and the decreasing effectiveness of vaccines.
Meanwhile, the change in seasons and the easing of pandemic prevention and control policies in some countries are likely to increase the risk of a surge of COVID-19 cases in the time to come, during the Tet Festival and Spring of 2023.
In order to strengthen the pandemic prevention and control measures during trade and tourism activities in the festive festival in the first months of 2023 and continue to promote the socio-economic development at the same time, the PM requested ministries, sectors and localities to strictly implement the Politburo's directive on the organisation of Tet Festival and the PM's directive on the strengthening of pandemic control measures during the festival, as well as the Government's resolution on pandemic prevention and fight.
The Ministry of Health was asked to keep a close eye on the domestic and international pandemic situation, thus giving timely guidelines and coordination with ministries, sectors and localities in the pandemic fight, while working with localities to direct the implementation of measures to prevent COVID-19 and seasonal diseases, promptly stamping out outbreaks, and promoting COVID-19 vaccination activities.
The Ministry of Culture, Sports and Tourism was requested to work with the Ministry of Health and the People's Committees of localities to direct tourism businesses to ensure safety for tourists and locals.
The PM also instructed localities to strengthening the monitoring of people arriving from areas with pandemic outbreaks and localities where new COVID-19 variants are found, while keeping a close eye on the community and medical facilities to early detect the appearance of new SARS-CoV-2 variants. They were also requested to continue speeding up COVID-19 vaccination among all eligible groups.
Work started on first public bike service station in Hanoi
The construction of the first station under Hanoi's public bike service programme was started on January 9.
By January 20, about 10 bikes will be available at the station. People in the city will be offered a 10-day trial to experience the service before its official operation.
Last year, the Hanoi People's Committee approved a proposal by the city's Department of Transport that allows Tri Nam Joint Stock Company to provide public bike service for a 12-month trial.
Under the proposal, the firm will provide 1,000 bikes, 50% of them electric, at 94 locations in the city.
The pilot project is set to cost over 30.3 billion VND (1.22 million USD).
The company will charge 10,000 VND for a 30-minute trip on electric bikes and 5,000 VND for the same duration on normal bicycles.
Full-day rent for the electric bike will be 120,000 VND and half of that for pedal bicycles.
Six downtown districts will be prioritised for the pilot project, namely Ba Dinh, Dong Da, Tay Ho, Hoan Kiem. Thanh Xuan, and Hai Ba Trung.
Mong Cai launches free Wi-Fi services for visitors
Mong Cai city in the northern border province of Quang Ninh launched free Wi-Fi service system and QRCode scanning points that enable easier access to local tourism information on January 8 as part of efforts to promote its tourism activities.
The move aims to provide better services for visitors and locals by giving them easier access to the Internet to explore information on tourist destinations, accommodations and tourism service suppliers in the city.
The application of digital technology is expected to contribute to the city's efforts to turn Mong Cai into a smart tourist city.
First international school in northwest region launched
The Canadian International School – Lao Cai (CIS – Lao Cai), the first phase, was inaugurated in Lao Cai city of the northwestern province of the same name on January 8.
As the first international school in the Northwest, the CIS – Lao Cai will importantly contribute to improving the quality of education and training in the locality and the northwest region in general, creating a foundation for promoting cooperation between Lao Cai and the Canadian Embassy in various fields, Chairman of the provincial People's Committee Trinh Xuan Truong said at the school's opening ceremony.
Covering an area of 100,000 sq.m, the construction of CIS – Lao Cai started in October 2021 with a total investment of 500 billion VND (21.3 million USD).
In the first phase of the project, the primary and high school campus, an art centre, a creative science centre, a multi-purpose sports facility and an outdoor football field. All these facilities will be put into operation from the second semester of the 2022-2023 academic year.
CIS – Lao Cai has been authorised by the Ministry of Education of Alberta to teach the Canadian locality's official general education curriculum. It is the 18th school of Alberta province of Canada in the world.
Vietnamese people in RoK, Canada celebrate Tet
The Vietnamese Embassy in the Republic of Korea (RoK) held a "Xuan Que Huong" (Homeland Spring) programme in Seoul on January 8 to bring a warm Tet atmosphere to the Vietnamese community living in the East Asian nation.
Tet, or the Lunar New Year, is the biggest festival in a year of Vietnamese people and will take place from January 21-25 this year (the last day of the last lunar month to the fourth day of the first lunar month).
Ambassador Nguyen Vu Tung said that Vietnamese people in the RoK have stayed united and helped each other to overcome difficulties caused by the COVID-19 pandemic, gain successes, and maintain contributions to the homeland.
According to him, 2023 is the first year Vietnam and the RoK have realised the upgrade of their ties within the framework of the Comprehensive Strategic Partnership, with a purpose of upholding bilateral relations in all fields, especially economics, education, science technology, and people-to-people exchanges.
The diplomat called on the community to make efforts as well as active and effective contributions to the common goal of the two countries.
President of the Vietnamese Association in the RoK Vu Duc Luong said that the programme is of great significance to the Vietnamese community in the host country, especially those who cannot return home for Tet.
On the same day, the Canada – Vietnam Society (CVS) held a cultural festival to welcome the Lunar New Year.
Hong Kong hopes to welcome more Vietnamese students
Hong Kong (China) recently continued to adjust its policy to attract talent, and the door is now wide open for students and highly-qualified workers, including Vietnamese, to study or work.
Dr Nguyen Hoang Long is a PhD student at the Chinese University of Hong Kong. After graduating from the King's College Hospital in London, he chose to continue his academic path in Hong Kong (China) because of its strengths in education.
According to Long, Hong Kong has policies to attract high-quality students as well as good scholarship programmes. The number of international and Vietnamese students coming to Hong Kong has therefore increased in recent years.
Although many Vietnamese have chosen to study and work in Hong Kong, the two sides are still said to have not fully exploited the potential of cooperation in education and science.
Professor Yang Wang said, Hong Kong is strong in training in the fields of blockchain and digital economy, artificial intelligence, robotics, smart manufacturing, and biotechnology, while Vietnam has strong traditions in basic science, mathematics, and physics. These will be areas where the two sides can cooperate.
Leaders pay pre-Tet visits to workers, fishermen ​
Prime Minister Pham Minh Chinh attended an annual programme to celebrate the traditional Lunar New Year for workers in the south central province of Phu Yen on January 8.
He underlined the importance of Tet in the spiritual life of Vietnamese, stressing that helping the disadvantaged have a warm Tet demonstrates the Vietnamese tradition of unity and mutual help.
The same day, National Assembly Vuong Dinh Hue visited fishermen, beneficiaries of social welfare policies, poor people, and disadvantaged workers in the central province of Quang Binh, wishing them a joyful Lunar New Year festival ahead.
Also on January 8, Deputy Prime Minister Le Minh Khai visited and presented gifts to several beneficiaries of social policies, poor families and workers in disadvantaged circumstance in the southern provinces of Ca Mau and Long An.
Thua Thien-Hue beefs up wildlife protection and rescue
The central province of Thua Thien-Hue has beefed up its local wildlife protection and rescue movement, with many wild animals released back into their natural environment.
These two wild animals, a pig-tailed macaque weighing 8 kilos and a red-faced monkey weighing 9 kilo, both of which are in the group of rare and endangered animals, were handed over to Hương Trà town's Forest Protection Department by local people to release back into their habitat.
The number of wild animals being released back into their natural environment has increased significantly thanks to effective directions by forest rangers.
Extracurricular activities on nature reserves like these have helped students gain a better understanding of natural habitats, the characteristics of animals, and the danger of extinction posed by illegal animal hunting and consumption. They also help increase students' awareness about protecting biodiversity in the natural world.
Besides diversifying forms of information provision, the Forest Protection Department of Thua Thien-Hue also holds regular training courses for grassroots rangers to improve their knowledge and skills regarding wildlife rescue, boosting professionalism when receiving information and ensuring the best conditions for any release.
More than 80 wild animals were voluntarily handed over to Forest Protection Departments in Thua Thien-Hue province by local people last year, many of which are at risk of extinction.
The results reveal a positive change in community awareness about the importance of wildlife protection.
Lao media hails Vietnam's experience in economic development
The Lao Journalists Association's website laophattananews.com has recently published an article praising Vietnam's experiences for good economic growth in the context of global downturn.
The article emphasised that Vietnam recorded good economic growth in the context of the world facing economic recession, inflation, and unemployment in the past three years.
It cited the World Bank's study as saying one of the important factors for the nation's economic development is the fact that investors in the manufacturing sector, especially factories producing electronic devices from the US, Europe and Asia, have been expanding their operations in Vietnam.
In addition, its education reform has contributed to improving the quality of human resources. The Vietnamese Government's focus on investing in developing infrastructure is expected to boost growth in years to come.
According to the article, experts believe that in 2023, the world economy will continue to decline and face many difficulties. Large countries such as the US, China, and those in the EU are forecast to grow slowly. However, Vietnam is likely to sustain stable growth because it has attracted investors and issued suitable policies for local currency management.
Photo exhibition highlights youths with seas, islands
A photo exhibition, entitled "Youths with homeland seas and islands", opened at Dong A University in the central city of Da Nang on January 7.
On display are over 140 photos and documents featuring the history of establishing Vietnam's sovereignty over Hoang Sa (Paracel), activities to safeguard Vietnam's sovereignty over seas and islands in the current period, and the bond between youths with homeland seas and islands.
Speaking at the launch ceremony, Director of Hoang Sa Exhibition House Le Tien Cong said the event aims to popularise information on the country's seas and islands as well as youths' aspirations in association with them, as part of a strategy to turn Vietnam into a country strong and rich in seas for sustainable and prosperous development.
The event will last till January 12.
Zero-dong fair for the poor held ahead of Tet in HCM City
Chairman of the Vietnam Buddhist Sangha (VBS)'s Executive Council Most Venerable Thich Thien Nhon opened a zero-dong fair in support of the poor on the occasion of the upcoming Lunar New Year (Tet) festival at Minh Dao pagoda, Ho Chi Minh City, on January 8.
The fair, held from January 8-16, is expected to serve about 100-150 people per day. Apart of necessities and traditional goods for Tet, visitors will have a chance to receive an envelope of "lucky money" worth 200,000 VND
Head of Minh Dao pagoda Venerable Thich Minh An said the pagoda will partner with other Buddhist monasteries in the city to join social and charity activities launched by the municipal Vietnam Fatherland Front, such as visiting and presenting gifts to needy people as well as holding traditional Tet celebrations.
It has become a tradition for Buddhist establishments in HCM City to organise charity activities to help needy people have a warm and sufficient Tet, which is the most important traditional celebration for Vietnamese in a year.
On January 5, the municipal VBS's executive-charity board launched the programme "Xuan Yeu Thuong" (Spring of Love) and presented 1,200 Tet gifts to the disadvantaged in District 10.
Most recently on January 7, the VBS's Cu Chi district chapter handed over gifts to 4,600 people in needy in the locality.
Services for keeping pets during Tet holidays booming
As the Tet holiday ( the Lunar New Year) is approaching, services for keeping pets during the Tet holidays are booming.
A quick survey at some stores providing pet beauty and pet care services in Binh Thanh District, District 12, Thu Duc City shows that the service price this year is not higher than in previous years.
However, the demand for beautifying dogs and cats or sending pets to shops when pet owners go on vacation during the Tet holidays has increased slightly compared to the time before the Covid-19 epidemic.
Mai Thi Ngoc Bich in Ly Thai To Street in Ho Chi Minh City's District 3 said that her family has two small, fluffy white dogs, so she has to regularly take them to grooming salons for cats and dogs to take care of them because she doesn't know how to take care of them.
The owner of Puppy's House shop in Xo Viet Nghe Tinh Street Binh Thanh District said that this year, most customers have chosen a grooming service package including detailed cleaning, trimming and styling for pets. The shop assistant will advise customers to choose the right style after looking at pets' short or long hair, face, or breed.
From December 23 to December 29, the store will increase the pet beauty service fee by 20 percent in order to limit crowding at the end of the year. After this date, prices will decrease as normally, said Loan Le, owner of Puppy's house.
Currently, the package price including trimming and styling at some pet care stores ranges from VND280,000 to VND900,000 depending on weight. The price for keeping pets during the Tet holiday ranges from VND220,000-VND270,000 a day.
Tet gatherings held abroad by Vietnamese embassies
The Vietnamese Embassy in the US held the Xuan Que Huong (Homeland Spring) programme in Washington D.C. on January 6 (US time) to celebrate the traditional Lunar New Year festival, with nearly 600 people taking part, including US friends.
Speaking at the event, Vietnamese Ambassador to the US Nguyen Quoc Dung wished the Vietnamese community and US friends a New Year of health, success and happiness.
He said with delight that Vietnam became the seventh largest trade partner of the US for the first time in 2022, with two-way trade estimated at about 135 billion USD, up 18% annually.
Vietnam is also the fifth biggest source of students in the US, showing that ties between the two countries have become increasingly solid and bright, the diplomat said.
On January 7, the Vietnamese Embassy in the UK also held a Tet gathering in London with the participation of about 200 overseas Vietnamese (OVs), after three years of hiatus caused by COVID-19.
Speaking at a similar event held in Buenos Aires on January 7, Vietnamese Ambassador to Argentina Duong Quoc Thanh said the comprehensive partnership between Vietnam and Argentina has kept growing. The two countries are preparing for the 50th anniversary of bilateral diplomatic ties this year, including visits at all levels.
He wished the Vietnamese community in the host country would continue staying united to serve as a bridge promoting bilateral traditional friendship as well as national development.
Participants at the event also enjoyed traditional Vietnamese food for Tet such as fried spring rolls, glutinous rice cake and pork meat loaf.
A similar gathering was also held by the Vietnamese Embassy in India the same day.
High hopes for Vietnamese sports at international tournaments in 2023
2023 will be a busy year ahead for Vietnamese national football teams tasked with defending their title at the upcoming 32nd Southeast Asian (SEA) Games, winning a gold at the 20th Asian Games, and recording good results at the 2023 FIFA Women's World Cup.
The 2023 FIFA Women's World Cup will mark the first time that Vietnam has progressed to the finals of the prestigious female international tournament.
In Group E, Vietnam will take on defending champions the United States on July 22, the winners of an intercontinental play-off on July 26, and runners-up Netherlands on August 1.
Before heading to the tournament, the Vietnamese women's football team will participate in training camps in Japan and Europe, during which they play friendlies against the Japanese and German national teams in preparation for the Women's World Cup 2023.
Elsewhere, the senior men's national football team will take part in the 2023 Asian Cup in Qatar, although fixtures have yet to be scheduled for the competition.
The tournament was originally planned to take place in China this summer, although the hosts subsequently withdrawing from holding the tournament due to the development of the COVID-19 pandemic there.
A total of 24 teams will compete at the 2023 Asian Cup, with teams divided into six groups. The two best teams of each group and four third-placed teams will therefore progress through to the next round.
Head coach Park Hang-seo will bid farewell to the Vietnamese national men's football team after the 2022 AFF Cup, meaning that the Vietnam Football Federation (VFF) is seeking a new manager to lead the senior team. The team aim to qualify for the quarter-final stage as they did at the 2019 Asian Cup.
Furthermore, Vietnamese athletes are going to compete in the 20th Asian Games (ASIAD 20) which will run from September 23 to October 8 in Hangzhou, China, which involves 40 sports and a total of 482 sets of medals on offer.
The Vietnamese sporting delegation will vie for medals at SEA Games 32 taking place in Cambodia between May 5 and May 17. The regional games consists of 49 sports, including 608 events, although many sports which Vietnamese athletes are strong at are not listed in the games.
It will be a big challenge for the Vietnamese delegation as they seek to maintain their top position in the medal tally. At SEA Games 31 held in May 2022, Vietnam topped the medal tally with 205 gold, 125 silver and 116 bronze medals.
Inter-regional road to connect three central provinces
A new inter-regional road connecting the three provinces of Khánh Hòa, Ninh Thuận and Lâm Đồng will help foster transport infrastructure connection and boost socio-economic development in the central and Central Highlands regions.
The People's Council of the south-central coastal province of Khánh Hòa has issued a resolution approving the implementation policy and local budget allocation for the inter-regional road project at a cost of VNĐ1.93 trillion (US$81.4 million).
Nguyễn Khắc Toàn, chairman of Khánh Hòa Province's People's Council, said the inter-regional road project plays a very important role in creating a new space in socio-economic development, as it opens new connections among the districts in the province.
The project also helps to open regional links with the south-central coastal province of Ninh Thuận and the Central Highlands province of Lâm Đồng, creating favourable conditions to strengthen business ties.
The province plans to fund the project from its budget, including nearly VNĐ122 billion ($5.2 million) in the 2021-25 period and more than VNĐ808 billion ($34.1 million) in the 2026-30 period.
The remaining capital for the project will be sourced from the central government budget.
During the implementation of the project, if the project's total investment increases compared to the total investment approved by the National Assembly, the province will be responsible for allocating the additional capital to ensure completion of the project on schedule.
The new inter-regional road will be 57 kilometres long and 9m wide with two lanes.
The project will cover total land of nearly 129hectares, including about 37ha of agricultural land and 7ha of residential land.
There will be 211 households affected by the project and 11 households will be resettled.
Bat Trang ceramic art and painting cross at Hanoi exhibit
The exhibition "COHUNATU," which featured nearly 50 abstract ceramic artworks, provides audiences with a new viewpoint on Bát Tràng pottery.
It showcases works by four well-known artists: Ngô Anh Cơ, Nguyễn Quốc Huy, Hồ Nam and Trần Nam Tước.
Flattening ceramic pieces to create paintings with unique colours and textures was inspired by the desire to touch viewers' hearts.
According to artist Nguyễn Quốc Huy, he went against the crowd by using a non-traditional approach to ceramics as he intended to surprise the viewers.
Hồ Nam, another artist featured at the exhibit, told Việt Nam News that he hoped to push the limits of an ancient art form to create something truly magnificent.
The creative significance of the works shown at the exhibition, as well as the artists' efforts, were highly praised by Lương Xuân Đoàn, President of the Việt Nam Fine Arts Association.
Hue Festival will celebrate anniversary of UNESCO recognition and intangible heritage
The Huế Festival, held every other year in the central province, will feature performances and demonstrations to celebrate the 30th anniversary of the UNESCO-recognised Huế Monument complex and the 20th anniversary of Nhã Nhạc Cung Đình (Royal court music) being recognised as a world intangible heritage. The events will take place throughout 2023.
The tourism hub is expected to be an attractive location for 50 key events, more than 100 response activities, and art performances in the festival between January and December.
Vice Chairman of Thừa Thiên-Huế Provincial People's Committee, Phan Thanh Bình, said the festival, under this year's theme of Cultural Heritage with Integration and Development, will host domestic and international art troupes performing year-around events to promote the seven UNESCO-recognised heritages that the province has been preserving.
The province debuted the festival year by organising the Ban Sóc (Royal calendar delivery) ceremony, the event that kings under Nguyễn Dynasty organised to distribute calendars for royal mandarins at Ngọ Môn (Noon Gate), last weekend.
One of the first activities of the Festival Year will be followed by the Mai Vàng (Yellow Apricot blossom) Festival on January 9-19.
The province also said all activities this year would be stretched out with the theme of four seasons – Xuân Cố Đô (Spring in ancient capital) between January and March; Kinh Thành Tỏa Sáng (Shining Imperial Capital) with craft villages activities from April 28 and May 5; and Huế vào Thu (Huế in the Autumn) between July and September. The áo dài (traditional long dress), lanterns, lion dance and Monsoon festivals will demonstrate the Fall in Huế. Mùa Đông Xứ Huế (Winter time of Huế) will be ending the activity of the festival year with entertainment and year-ended ceremonies such as cuisine and musical performances from October to December.
The festival, which has seen endless efforts made by the People's Committee of Thừa Thiên Huế and communities over 22 years, is one of the key international art events of the country.
Mekong Delta's flower villages ready for Tet
Well-known flower villages in the Mekong Delta are ready to provide various varieties of flowers and ornamental trees for Tết (Lunar New Year), which falls on January 22 this year.
Sa Đéc Flower Village in Đồng Tháp Province's Sa Đéc City, one of the delta's largest flower growing areas, is preparing to supply 2 million pots of more than 2,000 varieties of flowers, bonsai trees, and ornamental trees for Tết.
Apart from popular flowers such as chrysanthemum and marigold, the village has 50 types of imported roses.
The highlights of the village are ornamental trees over 100 years old, such as starfruit tree, fig tree, and ochna.
Farmer Trần Văn Thà in Tân Đông Khánh Commune is growing more than 1,600 pots of raspberry chrysanthemum.
Meanwhile, farmer Đặng Võ Trần Khang in Tân Quy Đông Ward expects to supply more than 1,000 pots of hundreds of varieties of mini ornamental trees such as cactus and succulents.
He said customers have a lot of interest in those kinds of ornamental trees because they are small and colourful, and easy to plant.
Võ Thị Bình, vice chairwoman of the city's People's Committee, said the city would invest in new technologies to grow more new varieties of flowers to serve domestic big markets such as HCM City, Cần Thơ City, and central and northern provinces, and to export as well.
In Bến Tre Province's Chợ Lách District, farmers will provide more than 12 million pots of flowers and ornamental plants to the market, an increase of four million pots compared to last year.
Trần Minh Sơn, head of the district's ornamental plants association, said farmers in the districts were preparing to deliver traditional Tết flowers from the southern region such as marigold, raspberry chrysanthemum, cockscomb and confetti flowers to the market.
He added Chợ Lách is famous for varieties of chrysanthemum, mai (ochna), bonsai trees and different kinds of ornamental trees such as calamansi tree to meet customers' demand for Tết.
Farmer Phạm Văn Màu in Vĩnh Thành Commune is growing more than 3,500 pots of confetti flowers which are ready to be delivered to the market.
Among them, there are special products such as a pot with confetti in five colours or Indian confetti which can change into different colours in a day.
Màu also prepares 50 large confetti pots costing from VNĐ15 million to over 100 million (US$643-4,290) each pot.
Trần Hữu Nghị, deputy head of the Chợ Lách District's agriculture and rural development office, said many farmers proactively introduced their products on social media and e-commerce platforms to seek buyers. Around 60 per cent of the district's products for Tết were pre-ordered by sellers and customers.
Tuan wins HCM City Marathon after Thanh takes wrong turn
National team member Lê Văn Tuấn topped in the 10th HCM City Marathon yesterday in his first tournament of the year after taking a late lead of SEA Games champion Hoàng Nguyên Thanh, who took a wrong turn 500m from the finish line.
Tuấn finished the men's elite full 42km marathon with a time of 2hr 32.40min to claim the gold medal.
Tuấn, who finished fourth in the 31st SEA Games last May, said that winning this early in the year would be a great impetus for him for the rest of 2023.
The 39-year-old, who finished third at the December National Sports Games, still focuses on the next SEA Games, which will be held this May in Cambodia.
His personal best is now better than the SEA Games bronze medallist Tony Payne of Thailand, who ran 2:26.40.
On the women's elite marathon, SEA Games bronze medallist Hoàng Thị Ngọc Hoa came first after 3:05.43.
Nguyễn Thị Thuý Vân and Nguyễn Thị Thanh Tuyền were second and third, respectively.
In the men's elite half marathon, Lê Hữu Lộc, Nguyễn Lê Hoàng Vũ and Trương Nhật Linh were in the top three. Meanwhile, Lê Thị Kha Ly, Trương Hồng Uyên and Trần Thị Ny were best in the women's.
The 10th edition of the event also held categories for amateur runners.
Đặng Anh Quyết, one of the most famous athletes in the amateur community, made no difficulty taking the top podium of the men's 30-39-year-old group.
Quyết, who got married a week ago, maintained at his strong run to finish with a time of 2:41.47.
He was followed by Hoàng Đoàn Ngọc and Nguyễn Trần Minh Đức.
The women's title went to Nguyễn Thị Đường, who ran 3:17.51, leaving behind Tạ Thị Minh Nghĩa and Trần Thị Hoa.
The marathon was held in the Phú Mỹ Hưng Urban Area with 10,000 local and foreign runners in four categories: 42km, 21km, 10km and 5km.
A running competition for children was also launched with 500 children aged three to 10 in two categories of 1.5km and 500m.
The HCM City Athletics Federation and Pulse Active, a sports-tourism and lifestyle entertainment company and the Department of Culture and Sports organised the marathon.
It is one of Việt Nam's largest marathons and has been held annually since 2013. This year's prizes total over VNĐ700 million (US$29,800).
Manuel Aliprandi and Lan Huong win at VN Trail Marathon
Manuel Aliprandi from Italy won the men's 70km race at the Việt Nam Trail Marathon (VTM) held in Mộc Châu Town, Mộc Châu District, Sơn La Province on Saturday.
The female winner of 70km was Vũ Thị Lan Hương. She earned second place at the VTM 2022 and Việt Nam Jungle Marathon 2022 at a 70km distance. VTM 2023 is her first win at Việt Nam Trail Series (VTS).
The VTM 2023 also created lovely memories and stories for the participants.
One of them was the story of Nguyễn Hữu Trí, a popular Vietnamese Youtuber and a runner. Having participated in three seasons of the Việt Nam Trail Marathon this year, he returned at the 42km distance and shared an adorable story at the race.
After running for the first 11km, Trí got injured and could not wear his shoes anymore, so he was looking for a place to borrow flip-flops. Lucky for Trí, an "auntie" on the way brought him the only pair in her house, even though he did not carry any money.
At this year's race, famous runners such as actor Nhan Phúc Vinh running 70km and 42km runner Nguyễn Thị Thanh Nhã, the first Vietnamese woman to climb Everest, also took part in the event.
Vinh ran the 21km distance at the VTM 2021, 70km at the VJM 2022 and the VTM 2023. He gained interest in running for Topas from a conversation with Operation Smiles.
On Saturday, Mộc Châu welcomed thousands of runners racing up to 70km on stunning trails in remote mountains and through minority villages and blossom-filled orchards. Plus, money raised goes to local neo-natal care and poor households.
Established in 2019, the VTM has grown to become one of the largest mountain runs in the nation, with 3,500 runners taking part this year.
Since it began, the race has brought more than 13,000 runners to experience the warm hospitality and stunning scenery of Mộc Châu.
The Việt Nam Trail Series has raised around US$390,000 (VNĐ9.2 billion) for good causes.
The next Topas race will be the 10th anniversary of the nation's first-ever ultra-trail, the Việt Nam Mountain Marathon, established in 2013.
Workshop discusses marine spatial planning for sustainable oceans in VN
Vietnamese and foreign experts gathered at a workshop on Thursday and Friday in the central province of Quảng Bình to discuss the master plan for sustainable exploitation and use of coastal resources from 2021 to 2030, with a vision to 2045.
The workshop was co-organised by the Vietnamese Ministry of Natural Resources and Environment (MONRE), the People's Committee of Quảng Bình Province, the United Nations Development Programme (UNDP) and the Norwegian Embassy in Hà Nội.
Representatives of the Government, provinces and coastal cities from Quảng Ninh to Phú Yên, international organisations, experts, and representatives of several units under the Ministry and Department of Seas and Islands of Việt Nam, attended the workshop.
Lê Minh Ngân, deputy minister of natural resources and environment, said: "As a coastal country with a long coastline and many islands, facing the challenges of environmental pollution, the decline of marine resources, and the impact of climate change, Việt Nam has actively developed and implemented policies and laws on management of seas and islands and enhancing international cooperation over the past few years."
The objective of the master plan is to sustainably develop the coastal zone by enhancing the efficiency of resource management, exploitation, and utilisation within an integrated management framework, while proactively adapting to climate change and sea level rise.
It also aims to enhance the lifestyles and living conditions of the coastal communities in conjunction with the conservation and development of natural, ecological, and cultural qualities, maintain social order and guarantee national defence and security.
Patrick Haverman, UNDP deputy resident representative in Việt Nam, said: "Sustainable management of coastal and marine areas is a crucial tool for Việt Nam's development of a blue sea economy, promoting the growth of new sectors to enhance income and create new jobs. Particularly, coastal planning and open marine spatial planning have the chance to capitalise on the vast potential of marine wind energy as an essential renewable energy source for achieving Việt Nam's climate objectives.
Bella Vu wins gold medal at international arts festival
Bella Vu, Miss Eco Teen International, bagged a gold medal in the piano category at the Hanoi International Art Festival 2023 which wrapped up on January 8.
The 14-year-old girl's win comes as she successfully performed the masterpiece Clementi Sonatina Op.36 No 4 by famous Italian composer Muzio Clementi.
Elsewhere, her brother Oscar Vu also took part in the piano competition, winning a silver medal in the process.
This comes after Vu Huyen Dieu, also known as Bella Vu, claimed a gold medal in vocal music at the ninth Asia Arts Festival held in Singapore. The local girl has taken part in the festival several times and was awarded a silver medal in the piano solo back in 2015 followed by a silver medal in the piano duet in 2016.
Bella Vu is best known for beating over 60 global contestants to bring home the Miss Eco Teen International 2021 title at the grand finale of the pageant which was held on December 21, 2022, in Egypt.
Wild elephants spotted at Quang Nam residential area
A group of wild elephants have been spotted at a residential area in Nong Son District in the central province of Quang Nam.
Speaking to local media on Sunday afternoon, Que Lam Communal People's Committee Chairman Tran Van Sang said that local people had seen and recorded videos of a herd of wild elephants coming from the forest to their village.
"There were five elephants," the official said. "They looked fine, well-fed and calm, which was different from the hungry and violent elephants that were seen here in 2019."
According to the official, both local residents and the wild elephants have benefited from the elephant sanctuary which was established by the Vietnam Administration of Forestry in partnership with the US Agency for International Development (USAID) in 2017.
"The sanctuary covers nearly 19,000 hectares in Phuoc Ninh and Que Lam communes of Nong Son district, and a buffer zone covering about 25,000 hectares sprawling over nine communes of the districts of Nong Son, Dai Loc, Nam Giang, Phuoc Son and Hiep Duc," Sang added. "We've grown more trees in the sanctuary to supply enough food for the elephants and built a proper fence to prevent them from going into residential areas."
A recent survey by the Vietnam Administration of Forestry identified at least seven elephants living in a group in the reserve. They are among the last endangered Asian elephants.
It is estimated that between 70-130 wild elephants are currently living across 10 localities in Vietnam, with the largest number found in the border area of Vietnam with Laos and Cambodia.
Work starts on VND1.3-trillion bridge in Quang Binh
Work on Nhat Le 3 Bridge and two roads leading to the bridge began yesterday, January 8, in the central province of Quang Binh, with a total investment of VND1.3 trillion.
Nhat Le 3 bridge will span over the Nhat Le River. The east side of the bridge will link with Vo Nguyen Giap Street in Dong Hoi City while its west side will connect with the National Highway 1A section passing through Quang Ninh District.
The project has a total length of 2,826 meters, with the main bridge measuring 561 meters in length, allowing vehicles to travel at a maximum speed of 60 kilometers per hour. The project is slated for completion in 2026, the local media reported.
The bridge, a seaside road, National Highway 1A and the Ho Chi Minh Road are expected to improve the connectivity among urban areas, economic zones and regions, as well as to contribute to the development of marine services.
Aside from Nhat Le 3, Quang Binh, on the same day, broke ground on two other key projects, namely the Quang Binh Province Sports Center, whose total area is 25,000 square meters with an investment of VND240 billion, and the Quang Binh Province Center for Disease Control, which will span 25,000 meters and require VND220 billion in investment. The two projects are scheduled to be completed in 2025.
Drizzle, fog cover Northern region, Hanoi in mornings
The National Center for Hydrology Meteorology Forecasting reported that drizzle and light fog covered the Northern region this morning, along with cloudy sky and sustained winds of levels 2-3.
The temperature in the capital city of Hanoi averaged between 16 degrees Celsius and 23 degrees Celsius.
The cold wave has spread to the provinces and cities from Thanh Hoa to Thua Thien- Hue, and from Da Nang to Binh Thuan with temperatures of 17-29 degrees Celsius.
The Central Highlands and the Southern regions saw cloudy, thundery and rainy condition in some places.
New Covid booster still effective against Omicron variants
Chief Representative of the World Health Organisation (WHO) in Vietnam Dr. Angela Pratt has said that the new Covid booster is still effective against Omicron variants.
Regarding the assessment of the XBB sub-variant of Omicron, she also recommended strengthening the prevention of the Covid-19 epidemic in Vietnam.
The WHO representative in Vietnam stated that there have been a number of sub-variants, including the XBB variant which is a recombinant of the omicron BA.2.10.1 and BA.2.75 subvariants.
Although studies are underway to better understand the XBB variant's ability to avoid immunity, that is, the new variant is capable of evading antibodies from existing Covid vaccines, but to date there is no evidence of variation in disease severity caused by the XBB variant.
Current diagnostic and protective measures remain in place, including WHO-approved Covid-19 vaccines.
Presently, the WHO still recommends the same precautions taken for the XBB variant as for other minor variants of Omicron and Covid-19 in general.
Source: VNA/SGT/VNS/VOV/Dtinews/SGGP/VGP/Hanoitimes