Shop Talk: Pets & Friends – A groom with a view – Pet Business World News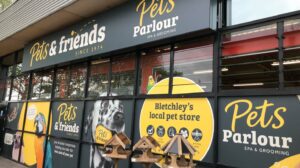 Pets & Friends' new state-of-the-art grooming concept Pets Parlour at its Bletchley store is the latest in a series of initiatives to drive growth at the multi-site retailer.
Pets & Friends may be a relatively new brand for many communities of pet owners, but the years of experience behind the retailer put it in a strong position to become a household name in the future.
After many years trading as Kennelgate, and as part of Kennelpak Limited, the retail brand has been repositioned as Pets & Friends and is now embarking on a major phase of development to both broaden the geographical reach and significantly enhance the range of services offered by the organisation.
Backed by the Endless LLP group, Pets & Friends has 18 stores in central England and delivers nationwide from its head office and distribution hub at Stapleford, Nottinghamshire. New CEO Claire Bayliss joined the particular retailer in the spring of 2021 and is overseeing the rollout of the rebranding and the subsequent stages of advancement.
She told pbw news: "Every store uses the same pos plus colour palette, and every shop also has the same footprint in terms of range, adjacencies and the education we offer to customers. Although the Pets & Friends rebrand started before the covid lockdown, it was probably only in the last year that we truly understood what it means. "
The latest stage in the development of Pets & Friends is the opening of a new grooming salon at the company's store in Bletchley, near Milton Keynes.
Although it is the thirteenth salon to open in the company's portfolio, it is the first one to carry the Pets Parlour branding, which will be the model for Pets & Friends salons in the future. The parlour opened last month with a launch event featuring special guest pet influencer appearances, exclusive grooming offers, demonstrations and giveaways.
As well as conveying a new, more modern look and feel, Pets Parlour also features the state-of-the-art equipment.
The salon in Bletchley is, according to the company, the first outlet in the UK to feature the latest, adjustable electric tables from Dezyna Dog. The sturdy tables, with securely enclosed wiring plus pedals, can be adjusted to a large range of heights for different shapes and sizes of pets.
Other features at the new-style salon include a chalk wall at each station to write the particular dog's name on, as well as the kind of large mirrors you would normally see in an upmarket hairdressers.
"We want to be the Toni & Guy of the grooming world! " says Claire.
She continues: "Grooming is definitely a growing market, we are seeing that not just in our salons and spas but also in product sales.
"It's all part of the humanisation of pets. As families grow with more pets, the parents are increasingly passionate about them. "
Concerns over the health and wellbeing associated with pets is certainly a driver of the grooming business, reports Claire, but so is the very modern requirement for pets to look good on Instagram accounts. "Some pet Instagram stars shop with us, " she adds.
More Pets Parlour salons are to be created over time, both in company stores and potentially as concessions partnerships at other sites. Kerry Chapman, the company's L& D services manager, trains all groomers via an internal training academy and later this summer the training function will be expanded to accommodate external candidates too.
Training at Pets & Friends is continual, and designed so that groomers will be able to work with every conceivable breed of dog they might encounter. At least one person at every salon is trained in cat grooming too, and the service also extends to rabbits plus guinea pigs if required.
Training is key, because knowledgeable staff is a vital part of the offer from Pets & F riends.
The store teams pride themselves on being able to provide nutritional advice, training tips, and a range of services such as microchipping, ID tag engraving, harness fitting, weight checks and nail clipping.
"Some large retailers wouldn't know the name of their customers and their pets, but our staff do, " says Claire. "We are an ind
ependent operating on a national scale plus there is personalisation here. We are located in the heart of local communities and we know we have an important role to play. "
Every staff member has a detailed and structured training programme that covers product knowledge, nutrition and wellbeing, and earlier this year a digital 'Knowledge Hub' went live, which will soon be augmented with an online chat function, whereby pet owners can receive online advice directly from store colleagues.
Claire summarises it as "a highly personalised, full service, pet care eco system. "
She continues: "We are well placed to give advice and guidance, plus our colleagues are interested in what they do. That translates into a great customer experience. "
When it comes to the product selection, the company strategy is to reduce listings on grocery lines and focus more on specialist products, with plenty of choice in the small animal, aquatics, wild bird and poultry categories as well as cat and dog.
Raw food is a large part of the in-store offer, and it continues to grow strongly, reports Claire.
"With the current challenges in sourcing wheat, fertiliser plus oil, that will put pressure on recipes for many products so I can only see raw accelerating. We re currently developing own-brand raw food, as well as insect-based protein via a third party. "
All in all, things are moving quickly for the company.
"Retail sales are growing strongly, and online is growing even more strongly, " says Claire. "We have invested in a new platform in order to create a seamless connection between the in-store experience and the online experience. "
The company's current store footprint extends from Bletchley in the midlands to Wakefield within the north, across the full width of England, and Claire and the team are on the lookout for new sites in order to expand this further, particularly in the north and north west.
Expanding Pets Parlour through concessions is also on the agenda, as is a new 'concept store' to demonstrate the latest retail innovations such as training centres, refillable/packaging free products and a community space within the shop.
A dog training academy is also in development, as well as a 'build your own box' subscription service based around a personalised nutrition plan for each dog.
And so with a new name, a new ambition along with a host of new concepts, surely it is only a matter of time before Pets & Buddies becomes an even bigger player, with fully national coverage.