Pets at Home revamps more stores – Pet Business World News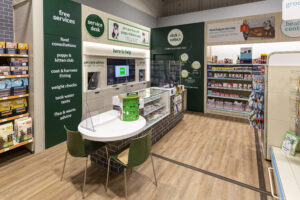 Retail chain Pets at Home has continued its store refresh programme with updates to two more sites.
The new look pet care centre at Meteor Centre Retail Park in Derby features a grooming salon – The Groom Room –for the first time. It offers a wide range of grooming services for dogs, including full grooms, spa treatments, puppy grooming, bath, brush and blow-dry, and nail clipping.
The rest of the store has been refurbished, which includes a pet village for small animals and an aquatic centre.
The store also has a Vets4Pets surgery, formerly Companion Care, which has been extended and is staffed by a team of vets, experienced nurses, and dedicated client care advisors. All customers who were previously signed up to Companion Care will automatically have access to the new Vets4Pets surgery.
Store manager Deb Wyld said: "We can't wait to welcome our customers and their pets into our revamped dog care centre.
"We really do offer everything you need to keep pets happy, healthy and safe, all under one roof. Whether it's help with fitting a harness or your pet's diet, accessing our grooming services, or booking an appointment with the vet team, our team are always on hand to offer expert pet care advice, support and guidance. "
New customers signing up in order to Pets at Home's VIP club loyalty programme will certainly receive 10% off their first shop and 25% off their first full groom at The Groom Room.
The retailer has also opened the doors to a new-look pet care centre at Huntingdon Retail Park, Cambridgeshire.
Your local store also features a Vets4Pets surgical treatment, a small animal pet village, an aquatic centre, and a Groom Room salon. Customers can also make use of a new self-wash station for dogs.
Both stores offer support for pet owners including flea and worm subscriptions, weight checks and nutritional consultations, coat and harness fitting services for dogs, and a free VIP Puppy & Kitten Club.