New shelter building approved for busy humane society – Londoner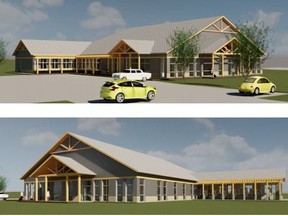 A new building can't come soon enough, says the head of the Sarnia and District Humane Society.
Article content
A new building can't come soon enough, says the head of the Sarnia and District Humane Society.
Article content
The charity's existing 61-square-metre (660-square-foot) shelter has been running out of the space needed to care for the roughly 3,000 animals per year showing up at its doors in Centennial Park's northwest, executive director Donna Pyette said.
Offices have instead been used to house animals while quarantine space meant for more aggressive animals has been repurposed for moms and pups as needed, she said.
"Every nook and cranny is used for animal housing and storage," she recently told city council before councillors unanimously approved a rezoning and official plan amendment needed for the society to build a new, larger facility in the park immediately to the present building's east.
Coun. George Vandenberg, a member of the humane society's board, declared a conflict and didn't vote.
"We're thrilled," Pyette said about the decision, noting the number of animals in the humane society's care is expected to rise further still with the pending closure of the Glencoe Animal Shelter later this month.
"So we're very excited to get the (capital) campaign underway and to get things in place to start building," she said.
Society officials hope to break ground this fall, she said.
Building new is expected to be roughly on par with the cost of renovations that were sought – and approved in 2020 – to add outdoor dog kennels, grooming and veterinary services at the existing facility.
Pitching to instead build new came in 2021, given the similarity of the projected $2- to-$2.5-million cost and the need for more space.
Article content
Price increases since might put that total closer to $3 million now, Pyette said.
Details of a capital campaign to help fund at least some of that price tag are expected this summer, she said.
"We've received a lot of support from the community … at large, as well as some of our business leaders throughout this whole process," she said.
"We're confident we can keep the build to not exceed the $3 million mark."

The new build on about 0.7 hectares will include a self-serve dog wash station, a veterinary surgical unit for animals in the humane society's care, a pet supply store and a cat cafe, where people can order coffee while shelter cats roam the space.
That could help with adoptions, Pyette said.
There are other no low-cost full-service vet clinics locally, she said, but the shelter is geared for lower income people who have nowhere else to go.
The existing shelter will be demolished and the land restored at the humane society's expense after the new facility is built, she said, noting that will be with local labour.
"Local has supported us and now we're going to be able to support them with this new build," she said.
Sarnia's waterfront master plan also notes the location – zoned waterfront and allowing a handful of uses, –could be one of the underused city land parcels repurposed for multi-use and residential towers to help with revenue.
Many of the city's other parks are zoned open space or major open space, which permit fewer uses.
Article content
Public access waterfront in Bright's Grove is also zoned open space.
Why the discrepancy exists isn't clear, said city planning manager Eric Hyatt. He noted details or amendments might emerge as part of the city's pending zoning bylaw review process.
"Our zoning bylaw right now, it's from 2002 and it's actually a combination of the previous City of Sarnia zoning bylaw as well as the Clearwater bylaw from amalgamation," he said.
A $1-per-year lease the nearly 70-year-old humane society signed with the city in 1980 for the existing shelter space will be renegotiated as part of the process, officials said.
"I will support this with some reluctance because of the park land," Mayor Mike Bradley said before council's decision.
"But I think the arguments made are quite compelling," he said, including attempts to find space to build the new shelter elsewhere that didn't pan out and the importance of adjacent Centennial Park space for volunteer dog walkers.
"I don't see any other viable option," he said.