Mad Paws hires advisers to gauge M&A interest amid record sales – The Australian Financial Review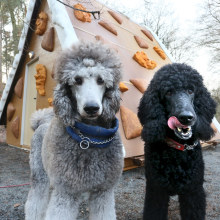 The drums are beating at listed pet services provider Crazy Paws Holding, which is sitting on a bumper third-quarter result, while it puts boutique adviser Hawkesbury Partners to work on scouting M & A options quietly in the background.
Sources said Mad Paws' December-quarter results due on Friday would include a 200 per cent plus growth in revenue to $6. 6 million for the quarter, as well as its maiden cashflow positive trading period.
They said Mad Paws had drastically shrunken its customer acquisition costs from 47 % of sales to less than 20 per cent, and still managed to pick up record new customers for its pet sitting, walking and grooming services. It was also on track to generate an operating profit by June end.
Street Talk understands Mad Paws, which has a $50 million market capitalisation, furthermore hired Sydney-based corporate advisory firm Hawkesbury Partners a few months ago.
Hawkesbury is understood to have been tasked with looking out for Mad Paws both ways: any targets the firm could add to its suite, as well as strategic partners that could help it grow. However , the vetting was at early stages and no firm offers were received or lobbed.
Angry Paws seems nicely positioned amid a surge of interest in pet goods and services businesses.
In December, grocery giant Woolworths Group spent $586 million on a 55 per cent stake in pet food, accessories and services retailer Petspiration Group, in a deal first revealed by Street Talk.