Going mobile gets pets moving | Peak Pets | jhnewsandguide.com – Jackson Hole News&Guide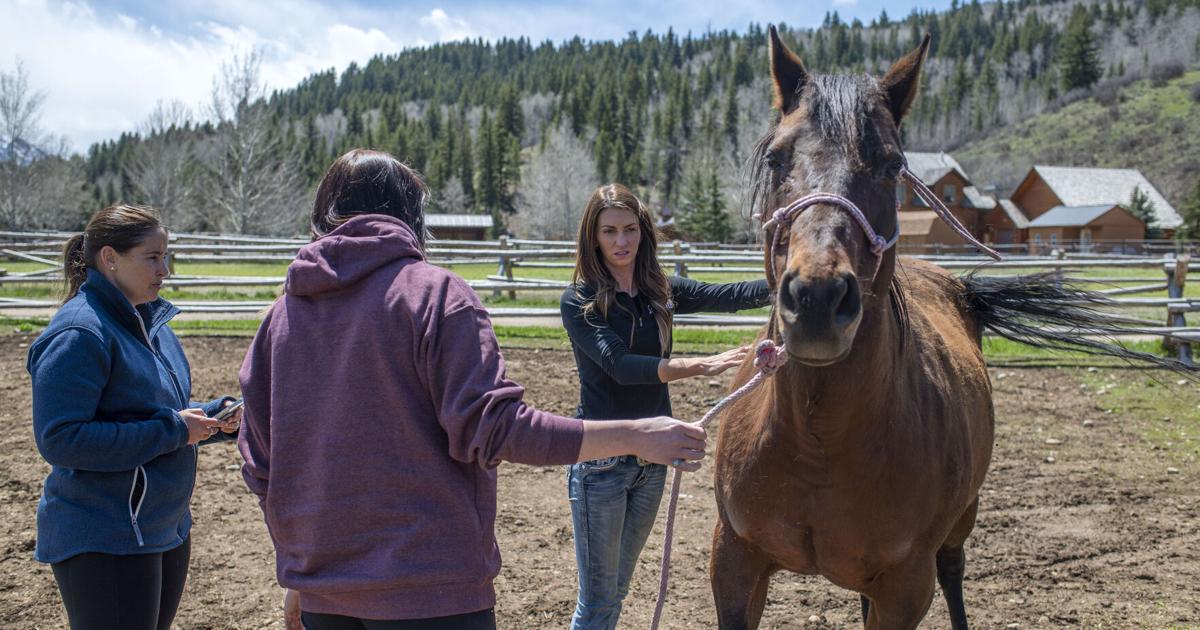 Something is wrong with Hustler the horse.
She just hasn't been her lively self, owner Katie Carr says as she walks a veterinarian to Hustler's corral overlooking the hills of Hoback.
Nothing looks immediately wrong with a still image of the breakaway horse. At 20 years old she's the equivalent of a 60-year-old human. But Carr says Hustler's distress is obvious by her attitude, her limp and the way she lifts her hind left leg back when she stands.
Carr explains this as she guides the Teton Equine team to the corrals on her ranch. Instead of white coats, Dr. Abby Matthaeus and veterinary technician Hilary Nelson are dressed for the job site in jeans and cowboy boots.
They guide Hustler in tight circles, and Matthaeus notices the horse is holding her tail off to the side, too.
For Matthaeus, assessing a patient who can't talk doesn't mean the two can't communicate. Pressing methodically into her neck and back, Matthaeus narrates Hustler's body language to narrow the possibilities.
It's all about interpreting the response of an animal, Matthaeus says, so it's important to be on the horse's home turf.
When horses — or any pets, for that matter — have to travel in a trailer or car to a brick and mortar office and spend time away from their owner, it's likely they'll be stressed on top of sick.
That throws off vitals such as heart rate and behavior, muddling signals with noise and making any issue harder to diagnose.
Put simply, owner Katie Carr says, it's difficult to haul horses. Rob and Katie Carr have eight other horses on a ranch in Hoback. They call on Matthaeus for their three dogs, too.
Empowering owners to best help their animals was Matthaeus' mission when she founded Teton Equine last year.
As the American Association of Equine Practitioners notes, equine veterinary practices tend to differ greatly from a typical veterinary clinic or animal hospital where people bring their ailing dogs and cats for treatment. Most equine veterinarians' practices are quite literally "an office on wheels," the association says, as vets travel to clients' homes, farms and ranches to see their patients.
In Jackson Hole and all across Wyoming — just like much of the rest of the Mountain West and other swaths of the country — equine and large-animal veterinarians play a critical role. There are more than 9 million horses in the United States, the association says. Whether caring for working horses, equine athletes or simply a pet horse, equine vets work long, hard hours, with specific training to perfect their skills and techniques.
Beyond that, there are specialized practices. Dr. Timothy Rutar of Wind River Equine Sports Medicine has one such practice. He's quick to point out, though, that while he does work with plenty of equine athlete patients, his practice's name "is a bit of a misnomer" because he deals with all sorts of horses, from the athletes to the workers to the pets.
Picture an orthopedic doctor who treats everyone with a joint injury, from world-class athletes to the weekend warrior.
Rutar has an undergraduate degree in human sports medicine, a master's degree in clinical biomechanics and a doctorate in veterinary medicine.
However, his doctorate and his specialty in equine sports medicine don't limit Rutar to that field.
"I have a doctorate in veterinary medicine with an emphasis in sports medicine, but it really covers all areas of practice, from general medicine to surgery," he said.
Each patient he sees is a crapshoot. Some might be antsy, some calm, others upset and still others used to being examined. But Rutar says his and other equine specialists' experience being around horses and understanding their behaviors makes all the difference.
"The truth is, some horses, there are no calming techniques, right?" he said. "I mean, you can't do X, Y or Z and it's going to work for this horse or that horse or the other one. You kind of have to, you definitely have to have seen a bunch and learned. And, you know, a 2-year-old horse isn't going to respond most of the time the same way as a 22-year-old horse."
Rutar says he loves what he does, working with large animals, but admits his job has an element of danger, dealing on a daily basis with equines that weigh several hundred pounds.
"Oh yeah, our job's pretty dangerous," he said with a humble chuckle. "I'd imagine that's why there's very few folks that do some of this and that's, well, that's reasonable."
Other mobile pet services also are available in the Jackson area. RedRover and Classic K9 Design are two mobile grooming services, along with Dr. Dave Hunt's mobile vet.
On top of having more relaxed patients, putting your business on wheels can become a necessity with the impossibly tight local real estate market, said Melissa Morbee of The LaundryMutt groomer.
The LaundryMutt was notified that its lease at 1300 Carol Lane would be terminated in August.
Morbee said in May that she was in the process of ordering a van for her family business.
"I cannot believe I can't find brick and mortar," Morbee said.
While she's still hoping a storefront will pop up, Morbee didn't want to leave her 500 clients out to dry.
To continue to be able to serve the community, going mobile was the only option, she said.
Matthaeus, meanwhile, said she never looked for a lease. From the beginning, she knew the business out of Idaho Falls needed mobile service flexibility for horse owners in Teton Valley, Idaho, and Jackson Hole.
Back on the Carrs' farm, everyone, including the dogs and chickens, has gathered as if to add their 2 cents on Hustler's health.
When Matthaeus runs her hands along Hustler's spine, she says the problem isn't clear.
Her sacroiliac joint could be strained, but she has neurological issues as well and arthritis. Hustler's hips and neck would be especially difficult to X-ray, even in an office.
Luckily, the nearby Mercedes Sprinter van also holds some steroid and shock wave therapy — good starting options in the process of diagnosis.
Hustler might never get back to performance level, the Carrs say, but they at least want Hustler to be comfortable.
They'll have to treat one hypothesis at a time and see if the treatment helps.
"These cases are tough because it's a process of elimination," Matthaeus says.
Before Matthaeus and Nelson depart in their clinic on wheels, they check on another horse, Holly, who they're treating for sarcoids, a common skin tumor in horses. One of the Carrs' dogs, Nala, also needs some medicine.
Nelson climbs into the van, and though it's a tight squeeze, there's no delay to fill the prescriptions.
Magnetic wood cabinets, custom built by Matthaeus' father, hold all the treatments. An array of scissors, a microwave, a centrifuge and a microscope are also affixed in place on hip-high counters. Matthaeus' framed diplomas are stuck on the van's back wall.
And when Hustler, Holly or Nala are ready to be seen again, they'll stay where they are comfortable. 
"Oh yeah, our job's pretty dangerous." — Dr. Timothy Rutar Wind River Equine Sports Medicine