Franpos Announces Partnership with Woof Gang Bakery & Grooming for Sales and Service Technology Overhaul – PR Web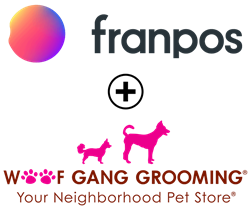 "Setting up Franpos across 200+ locations is an undertaking, but one that will pay off looking toward the future in terms of grooming service excellence and guest satisfaction. " – Ricardo Azevedo, CEO, Woof Gang Bakery, & Grooming
MIAMI (PRWEB) October 12, 2022
Cloud-based point of sale technology firm Franpos has announced a partnership with the pet grooming and retail franchise Woof Gang Bakery & Grooming, which currently boasts more than 200 stores opened or under development across the United States. This partnership comes shortly after the franchise was acquired by New York-based Garnett Station Partners, LLC, in June.
Franpos's comprehensive commerce platform will be used at the individual store level to manage sales, inventory, appointment booking, gift cards, loyalty programs, and more, as well as at the franchise level to consolidate key metrics concerning franchise growth, performance, and future opportunities. The partnership aims to deliver a fully integrated technology solution for the Woof Gang business, from point of purchase to consumer app, CRM functionality, and the ordering portal. Both partners are confident that this will result in an optimized purchase process for Woof Gang customers, both in-person and through digital channels.
"Retail and service-based franchise businesses, " Franpos CEO Subodh Gupta expressed, "rely more than ever on access to high quality, accurate data to understand shifts in the market and to respond with informed decisions. Franpos delivers the tools necessary to accomplish these tasks in a way that is simple to deploy across the entire franchise. "
For franchises, Franpos offers a suite of tools within a single cloud-based application. The Franpos online reserving solution aggregates appointments made online and in-person, and it includes recurring and rebooking features to increase customer retention. Originally implemented in high traffic salon settings, Franpos also allows for dynamic adjusting of schedules to maximize productivity plus minimize conflicts. This tool will result in a consistent scheduling experience across Woof Gang Bakery & Grooming franchisees, allowing for greater corporate oversight of business procedures and a streamlined training process across the company's rapidly growing locations. Overall, the customized solution for grooming operations will enable Woof Gang to further enhance its customer service.
Each franchise location will also have access to a local Franpos landing page with fully integrated eCommerce functionality, enabling in-store pickup and delivery orders. Franpos features automated royalty processing, which eliminates the need for physical invoicing and collection after 30 days. Loyalty and gift programs will be driven at the corporate level, which will empower Woof Bunch Bakery & Grooming to launch nation-wide marketing and promotional campaigns, all within the Franpos ecosystem. Customer sales, onboarding, and retention data is stored within the application and can be visualized by corporate employees as well as franchisees in order to optimize sales through the customer database.
Regarding the partnership, Woof Gang Bakery & Grooming CEO Ricardo Azevedo stated, "Setting upward Franpos across 200+ areas is an undertaking, but one which will pay off looking towards the future in terms of grooming support excellence and guest fulfillment. For us, Franpos is not just a point-of-sale system: it is an essential part of the way our company will be run moving forward, from delivering the best services to our furry friends to selling products, managing employees, optimizing supply chain, CRM, e-commerce, reservation appointments, pulling data—you name it. "
Franpos is already implemented in several pet stores globally, and the company has plans to expand this reach by developing updates to its software that address the specific needs of growing franchises like Woof Gang Bakery & Grooming. The consumer-facing Woof Gang app is currently in development and will allow for further scaling the franchise, as well as enhance the retail and services experience across the country.
About Franpos: Franpos is a franchise-centric POS system designed exclusively for franchisors and franchisees. With robust yet intuitive functionality, Franpos helps business businesses that are ready to integrate and streamline operations, boost sales, increase customer loyalty, and simply run a better business.
About Woof Gang Bakery & Tidying: With over 200 locations across the U. S., Woof Gang Bakery & Grooming is a premier pet store franchise, selling pet food and products and offering professional grooming services. Each Woof Team store is unique to its neighborhood, and the company takes pride in its leadership-based approach to franchising.
Share article upon social media or email: