Countryside Care providing home care services across Huron and Perth – Lakeshore Advance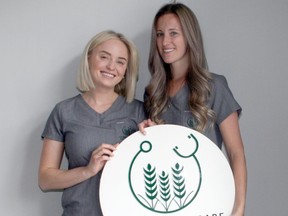 Article content
EXETER – Starting out as friends and fellow students at Western University about 10 years ago, Exeter's Anna Hodgson and Autumn Prestwich are now also business partners filling what they say are gaps in health care.
Article content
While they hail from different towns, both coincidentally ended up in Exeter in recent years and started Countryside Care Home Care Services in January. Prestwich said the two always joked about opening a long-term care home together, but that idea evolved into Countryside Care, which provides a variety of home care supports for individuals in Huron and Perth, including nursing, personal, and home supports.
Director of patient care Hodgson and director of nursing care Prestwich said through the pandemic the two realized that there were significant gaps in health care, specifically in home health care.
"We've talked to so many individuals in Huron and Perth County and everyone is just so thankful to have us here to offer this service," Prestwich explained.
Hodgson said there aren't a lot of long-term care homes around, and individuals are often put on a waiting list or will have to move far away from home.
"Overall, we do think that staying at home is the best situation … Obviously it's not possible for everyone forever, but what we do is we empower individuals to stay at home as long as possible and provide those gaps in care."
Often, people don't want to leave their homes, Hodgson said.
"If we're able to keep them in the home, then that makes us super happy."
Prestwich adds that many seniors have a love for the community in which they grew up and raised their children, "so if we can help them stay at their home, that is the best for them."
Article content
In addition to nursing support, which includes medication administration, pain and symptom management, intravenous management and much more, staff at Countryside Care provide supports such as light housekeeping and laundry, meal preparation, shopping, errands, pet care and more. Other personal supports include dressing, bathing, grooming, feeding, toileting and others.
Or it can just be "a friendly conversation," Prestwich said. "It's not always nursing care specifically, it can be something as small as just a friendly visit."
If there is something Countryside Care can't provide, they will connect clients with someone who can.
And it isn't only seniors that Countryside Care has been providing services for – they also have pediatric clients.
Since starting in January, Hodgson and Prestwich said things have been going really well for Countryside Care.
"Every person we talk to tells us they know five people that need us, so it has been expanding quite quickly," Prestwich said.
The two are always hiring at Countryside Care because they are always adding to their list of clients. Their staff roster includes caregivers, personal support workers, registered practical nurses and registered nurses.
Care is provided as often as the client requires. After being contacted, Countryside Care does a home assessment to consult with the family and determine a care plan. Prestwich and Hodgson say they've received positive feedback from families so far, who have thanked them for filling in the health care gaps. As they expected when they launched, they've been busy.
Article content
"We worked on this for a year before we launched," Prestwich said.
Prestwich, who also works as a nurse in London, said, "I'm so happy I'm able to do this. It's that positive reinforcement from the community that keeps us going."
Hodgson, who co-ordinates the home health assessment of the clients and the development of their care plans, said she was raised to give back to her community and make a positive impact. In addition to running Countryside Care with Prestwich, she works at Western University, where she earned her degree, and also has a business certificate from Harvard Business School.
"It's our passion, so it's fun for us," she said of their new venture. "We take it very seriously, but we feel so happy and blessed to be able to do it."