'Am I the Drama': Siberian Husky at Groomers Leaves Internet in Stitches – Newsweek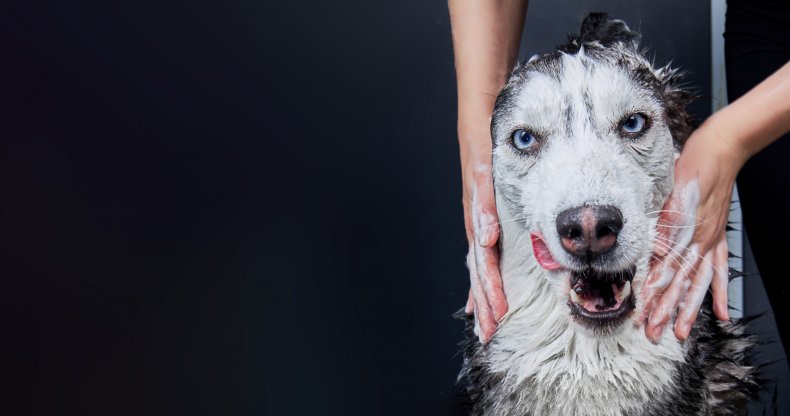 The internet has been left in stitches after a dog groomer shared a video of an enthusiastic client who wasn't ready for their pampering session to end.
Shared on Wednesday on TikTok, user sabrenahnetterville posted the now-viral clip of her and the Siberian Husky called Akita. The video now has over 20 million views and can be seen here.
In the video, sabrenahnetterville is seen holding the dog's leash and attempting to get her to come down from the bathing station. But when she pulls at the leash, the determined pup stays put, making a hilarious shouting noise.
In stitches, the poster looks at the camera laughing and tries to convince the dog to move. With more than 49,000 comments, TikTok users were overjoyed by the hilarious video.
The dog grooming market in the U.S. is big business. According to research by Arizton, the total revenue share of the pet industry stood at $99 billion, with 42 percent of the U.S. pet care services market comprising of businesses offering pet grooming services.
According to the American Kennel Club (AKC), the Siberian Husky is the 14th most popular dog in the U.S. Thickly coated and known for their great endurance, the Husky's coat requires some maintenance. The AKC suggests weekly brushing to keep the coat and skin in good condition. The breed has a double coat—an undercoat and guard hair, the undercoat is shed twice a year and it is important to "rake out" the old coat which is often done by a professional.
"I swear huskies are so dang dramatic," wrote one commenter, while another TikToker said: "A dog who WANTS bath time. Nice."
Another viewer joked: "This is me when my husband tries to get me out of bed in the morning," and another wrote: "Typical husky, constantly hollering!"
One viewer joked: "Am I the drama?!"
The poster sabrenahnetterville has been sharing clips of her dog grooming since January and now has more than 95,000 followers who love seeing the adorable dogs having a touch of pampering.
In a later video, the poster updated viewers on Akita with a second video of her—this time on the grooming table. The caption read: "Here is one more video of Akita because she is your favorite! No Huskies were harmed in the making of this video! She is not happy about the grooming process and is not afraid to tell you."
In the video, the dog is seen shouting and howling as the groomer tries to shave her paws.
Newsweek has reached out to sabrenahnetterville for comment.